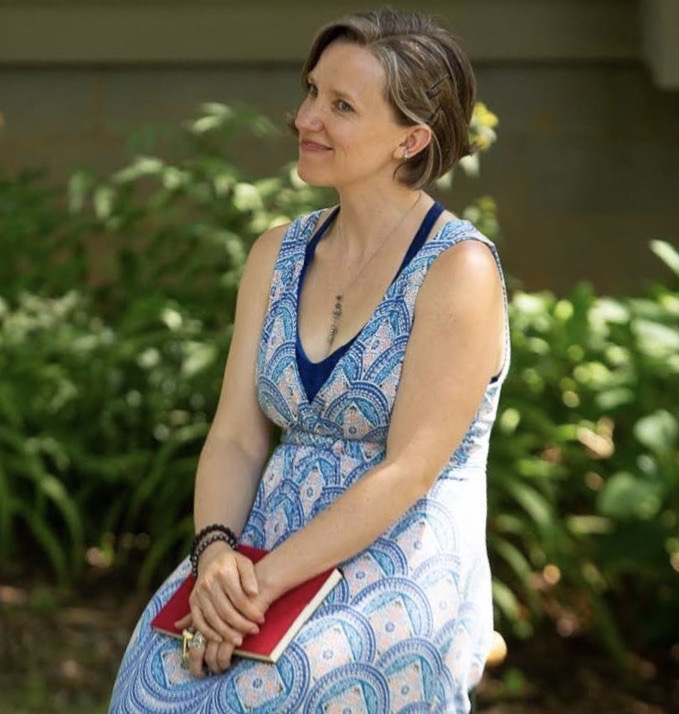 Jenne Sluder MA C-IAYT is a certified yoga therapist and mind-body specialist. A native of Asheville, North Carolina, Jenne holds a Masters in Transpersonal Psychology from Naropa University with specialized training in mind-body approaches to improving mental health and physical well-being.
Jenne is certified through the International Association of Yoga Therapists as a trauma-informed and body-positive therapeutic yoga instructor. Yoga therapists undergo extensive training in neuropsychology, structural anatomy, and evidence-based therapeutic mind-body techniques. With this expertise, a yoga therapist can prescribe specific practices and exercises that address specific health challenges, practice aspirations, and wellness goals.
As a long-time meditation practitioner, Jenne has trained under several skilled meditation masters including WonGong So, Shinzen Young, Lama Rod Owens, and Repa Dorje Odzer, in addition to her meditation studies with direct students of Chogyam Trungpa Rinpoche during her time at Naropa University.
Jenne works one-on-one with individuals and with groups using mindfulness-based, somatic, and compassion-focused mind-body practices.
Jenne's clients progress toward improved health and well-being through safe, relevant, and accessible practices adapted to each individual's needs and goals.
Jenne Sluder Yoga Therapy is based in Asheville, Hendersonville, and Weaverville North Carolina in addition to online programming accessible from anywhere in the world.
---

Examples of Conditions Addressed by Jenne Sluder Yoga Therapy
Chronic Pain
Injury Recovery
Post-Covid-19 Long-Hauler Syndrome
Memory Loss / Brain Fog / Concentration Issues
Generalized Anxiety
PTSD / Complex PTSD
Shallow Breathing / Improving Respiratory Capacity
Asthma & other reactive airway conditions
PVFM & Vocal Cord Dysfunction
Chronic Fatigue Syndrome
Back Pain / Neck Pain
Surgery Recovery
Social Anxiety Disorder
Depression
Bipolar Disorder
Major Life Transition
Stress Reduction
Codependency
Substance Abuse / Addiction / Recovery
Disordered Eating / ED
Domestic Abuse Recovery
Harsh Self-Judgment
Building New Habits
Self-Discovery
Grief Work
Anger Management
Arthritis
Osteopenia / Osteoporosis
Difficulty with Balance
Improve Flexibility / Range of Motion
Improve Coordination / Ease of Movement
Piriformis Syndrome
Joint Pain
Parkinson's Disease
Alzheimer's Disease
Attention Deficit Disorder & ADHD
Fibromyalgia
Nervous System Health
Irritable Bowel Syndrome
Acute Illness Recovery
Chronic Illness Management
RSD & Complex Regional Pain Syndrome
Mindful Fitness / Strength-Building / Core Strength
Posture / Structural Alignment
Improve Circulation / Heart Health
Blood Pressure Management
Kyphosis
Sciatica pain
Sacroiliac Joint pain
Spinal Fusion
Scoliosis
Hip / Knee / Shoulder Replacement Recovery
---