2023 Weekly Online Class Schedule

Plant the Seeds of Well-being 🌱 Enjoy an introductory week of free classes!
Get to know our warm and good-humored online practice community and explore the wide variety of health and wellness activities that our weekly schedule has to offer. Move at your own pace, honor your body's unique needs, and allow curiosity and self-compassion to guide the way in each practice.
To get started, simply email the words FREE WEEK to info@jennesluder.com and include any questions you may have. You will receive the full schedule of classes and Zoom links ➖ and you can get started anytime! Attend further classes by purchasing a pack of class passes or by signing up for a monthly membership.
Click on any class title below to learn more 🪬
Mondays 9:30 – 10:30am EST
Chair-Supported Yoga
Mondays 11am – Noon EST
Yoga-Inspired Pilates
Tuesdays 9:25am – 9:45 EST
Bounce! Rebounder Fitness
Tuesdays 10am – 11:10 EST
Gentle & Therapeutic Yoga
Wednesdays 11am – Noon EST
Yoga for Arthritis & Osteoporosis
Wednesdays 7pm – 8pm EST
Community Meditation
Thursdays 9:30am – 10:30 EST
Chair Pilates
Thursdays 7pm – 8pm EST
Rest & Refuge (Restorative Yoga + Sound Bath)
Fridays 9:45am – 10:05 EST
Bounce! Rebounder Fitness
Fridays 10:15am – 10:45 EST
Yoga-Inspired Pilates
2nd Sundays 2:15 – 3:30pm EST
Deep Rest Yoga Nidra
---
Monthly Deep Rest Yoga Nidra Sessions on Zoom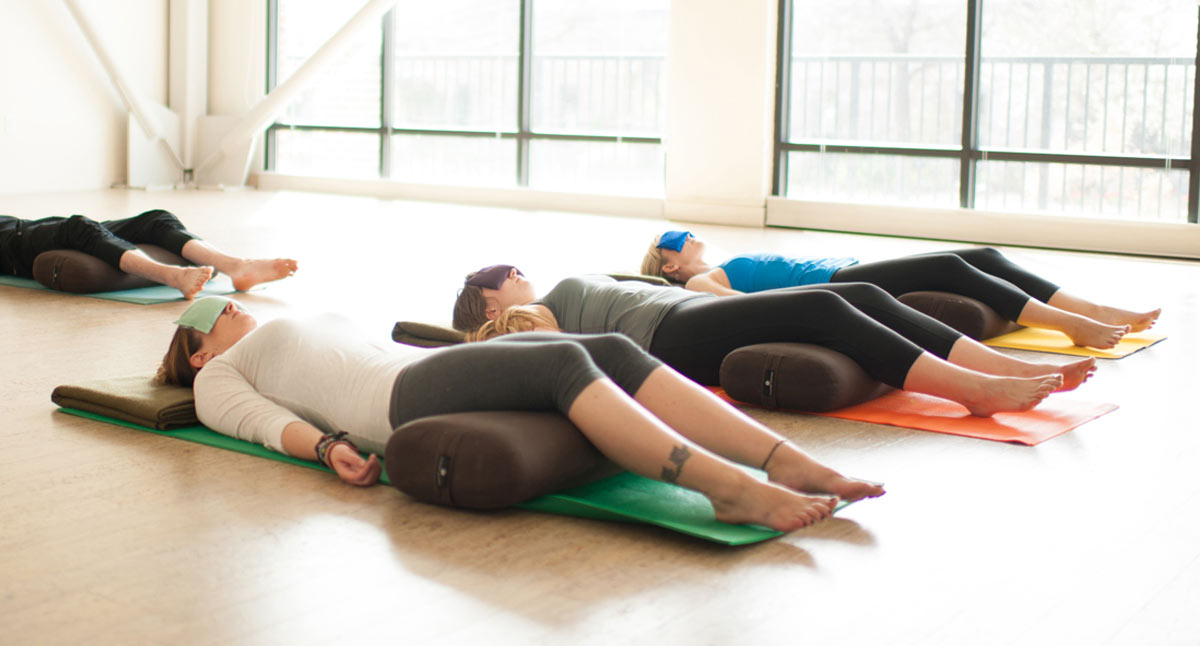 Click Here to Register for an Online Deep Rest Yoga Nidra Session
Yoga Nidra is a guided lying-down meditation that induces deep relaxation and peaceful states of awareness. Research highlights how Deep Rest practices can release cumulative stress from the body and brain, reducing inflammation and down-regulating stress-hormone arousal while harnessing the body and brain's natural abilities to heal and recover with focused, structured rest. Monthly Deep Rest Yoga Nidra falls on the second Sunday of every month from 2:15 – 3:30pm EST.
Click Here to Learn More about Deep Rest Sessions
---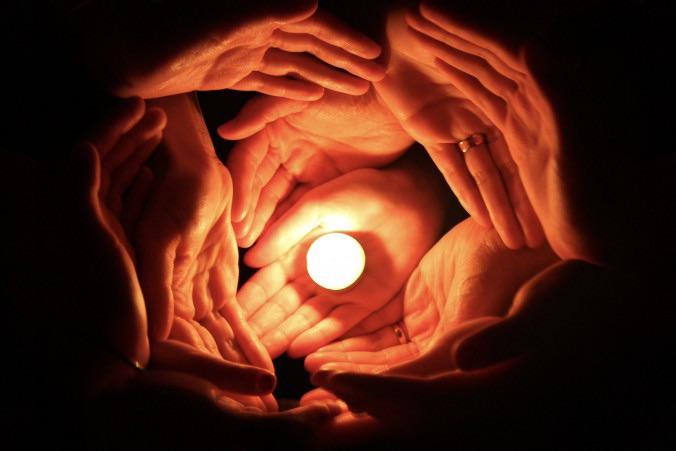 Community Meditation 🪷
Free or by-donation gentle yoga and meditation session every Wednesday evening from 7pm – 8pm on Zoom. Seated tension-releasing stretches on a chair or a cushion (your preference), breathing practice to release distress from the nervous system, lightly guided seated meditation. Concludes with a progressive relaxation at the end that can be done lying-down or reclined in a chair.
All are welcome. No prior experience necessary. This practice can be done in a chair, on the floor, on your couch, or in your bed. To join the group, simply email Jenne so she can send you the Zoom link info@jennesluder.com
---
Touching Peace: Five-Day Mindfulness Retreat
at Kanuga Lake & Conference Center
Arrive Monday June 12th @ 3pm 
Depart Friday June 16th @ Noon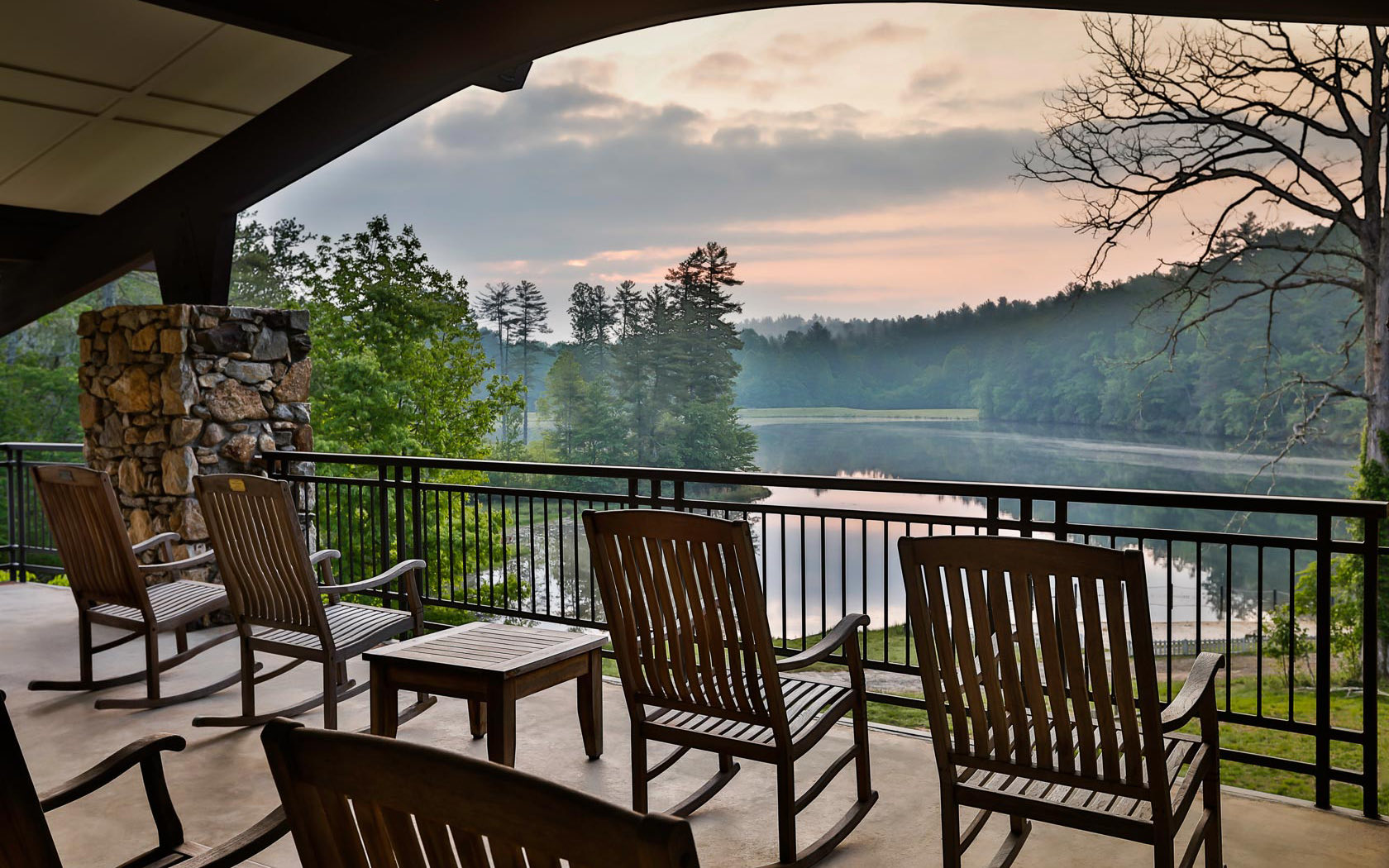 Let there be an opening into the quiet
beneath the chaos
where you find the peace
you did not think possible.
John O'Donohue
– Self-Compassion Practice –
– Gentle Yoga & Qigong –
– Seated & Lying-Down Meditation –
– Walking Meditation in Nature –
– Deep Rest / Yoga Nidra –
– Sound Bathing –
– Forest Bathing –
To touch peace is to come back to the place in us where we feel clear and calm, whole and connected. The distractions and pressures of modern life make it more important than ever that we prioritize pauses and practices that bring us to our inner still point where we can gather what we need to stay close to what matters and to be fully present to the grief and the joy of life.
Contemplative and devotional practice, meditative and mindful movement practice, time spent in nature and time spent in silence are all human rituals as old as time meant to guide us to an inner luminosity where healing and clear-seeing can happen.
In this 5-day retreat, we will stop, rest, listen, reflect, be present, and nourish our inmost self. We return to the wider world feeling motivated and committed to continue pauses & practices in our everyday lives.
Retreat sessions include self-compassion practice, gentle yoga and meditation, qigong and walking meditation in nature, guided relaxation, sound-bathing, and forest-bathing. The retreat also offers generous free time for personal reflection, connecting with other retreatants, nature walks, canoeing or kayaking on Kanuga Lake, and simply resting and renewing yourself in a peaceful and restorative setting.
Retreatants will find that there is something for everyone, regardless of physical limitation. No prior experience with yoga, meditation, or qigong is necessary. All are welcome.
Click Here to Register for Retreat
Email Jenne at info@jennesluder.com if you have questions
---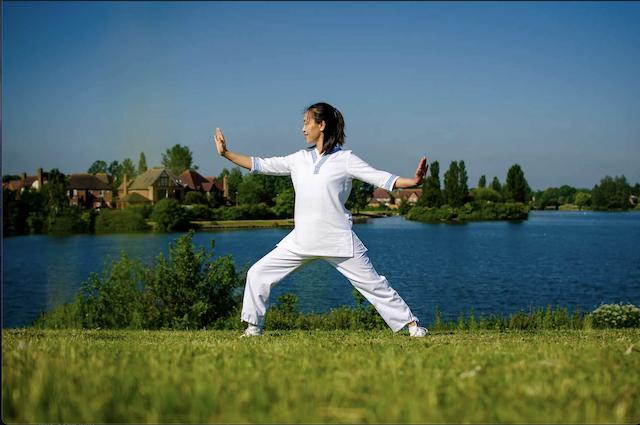 Tai Chi 10 Form in Nature
8 Wednesdays; 9am – 10am
April 12th – May 31st at The North Carolina Arboretum in Asheville
Learn a short form Tai Chi practice outdoors in nature in the midst of the spring flowers and bird song at the North Carolina Arboretum in Asheville, NC. This elegant short form introduces the signature movements of Tai Chi Chuan in a simplified and compact sequence. A wonderful practice for beginners, participants will learn the basic principles of each movement as well as modifications to accommodate individual needs. Tai chi is a safe and effective form of meditative exercise consisting of relaxed and focused movements that clear the mind and relax the nervous system while improving balance, strength, flexibility, stability, coordination, joint health, memory and attentional skills. Video practices will be provided to assist participants in practicing on their own time between sessions or in the case of a missed session. REGISTER
---
---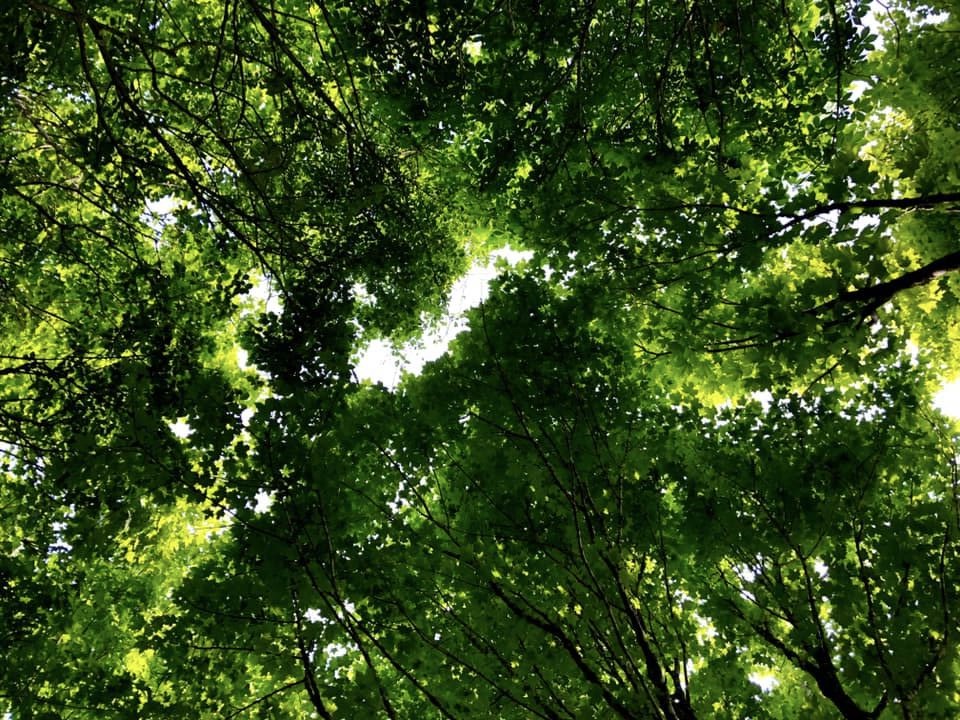 Meditation in Nature at the NC Arboretum
Connect with nature at the North Carolina Arboretum in Asheville and enjoy a morning of relaxation and quiet meditation. The session begins with gentle breath-based movement and tension-release. These gentle yoga and qigong movements are easy and calming and can be done standing or seated in a chair (your preference). A silent walking meditation through the garden allows us to be fully present to the wonders of nature. The session closes with a relaxing sound bath that can be enjoyed seated or lying-down (your preference).
Next Meditative Morning at the NC Arboretum:
Sunday April 30th 9am – 10:15 REGISTER
Save the Dates:
Sunday May 21st 9am – 10:15
Sunday June 25th 9am – 10:15
Sunday July 30th 9am – 10:15
---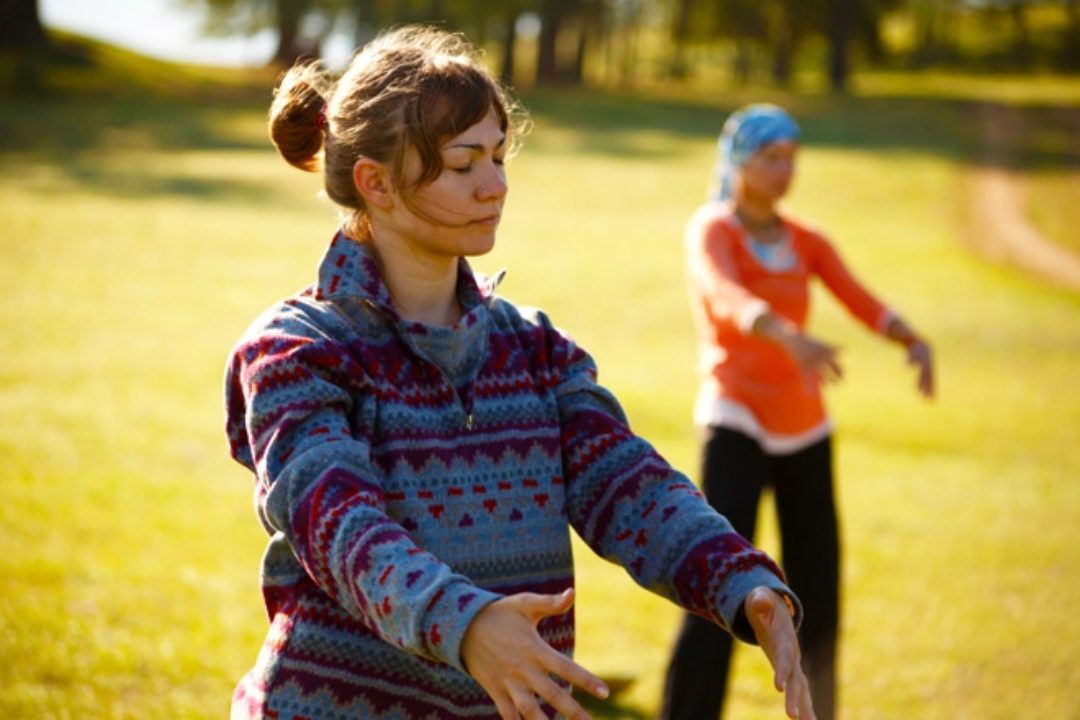 Silent Hike & Forest Qigong
Enjoy a quiet, mindful stroll through the woods at the North Carolina Arboretum in Asheville, NC. A silent hike takes us to scenic treasures on the arboretum property where we will do a restorative qigong practice. Qigong is a series of simple flowing movements that supports the body's natural healing processes, promotes healthy circulation, invites inner calm, and releases tension from the body. Hikes will be mindfully-paced and qigong practice easy and accessible. Limited to 12 participants.
Next Silent Qigong Hike at the North Carolina Arboretum:
Sunday April 2nd 10:15am – Noon REGISTER
Save the Date: Sunday June 11th 10:15am – Noon (registration not yet open)
---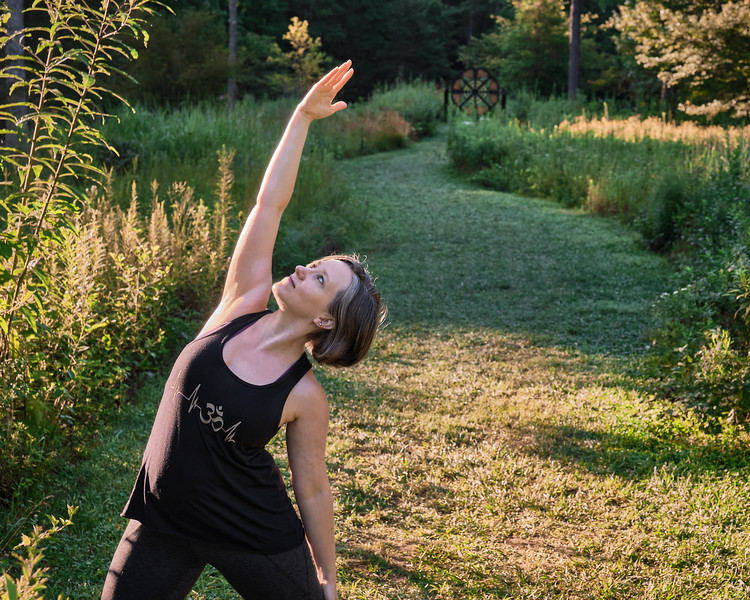 Silent Hike & Gentle Yoga
Enjoy a quiet, mindful hike to scenic treasures at The North Carolina Arboretum and a gentle yoga session in the forest that includes guided sensory meditation, calming breath-work, and gentle tension release. Hikes are mindfully-paced and yoga practices easy and accessible, including the option to sit on a bench for any seated practice. Participants bring their own mat or blanket for lying-down practices and are able to come to a lying-down position on the ground unassisted.
Registration not yet open. Email Jenne at info@jennesluder.com if you would like to receive an email alert when registration opens.
Save the Dates: 2023 Silent Yoga Hikes at the North Carolina Arboretum
Sunday May 7th 10:15am – Noon
Sunday July 9th 10:15am – Noon